Ideas to Consider For Your Dream Outdoor Kitchen
Our customers in Rochester, Des Moines, and Sioux Falls reach out to us with the goal of extending their indoor living space into the outdoors. For many, this means including an outdoor kitchen in their landscape design.

You may quickly brush off the idea of an outdoor kitchen as a lofty investment that will bring your landscape design beyond your budget. However, our designers can likely incorporate the outdoor kitchen elements that you're looking for into nearly any budget.

So, whether you envision a full-service outdoor kitchen with custom masonry details or a simple kegerator and flat-top stove area – or something else – we're here to help you decide what will be best for your lifestyle and your budget.

Read on to learn about our favorite outdoor kitchen elements for Midwest homes!
Customizable – The Options Are Endless!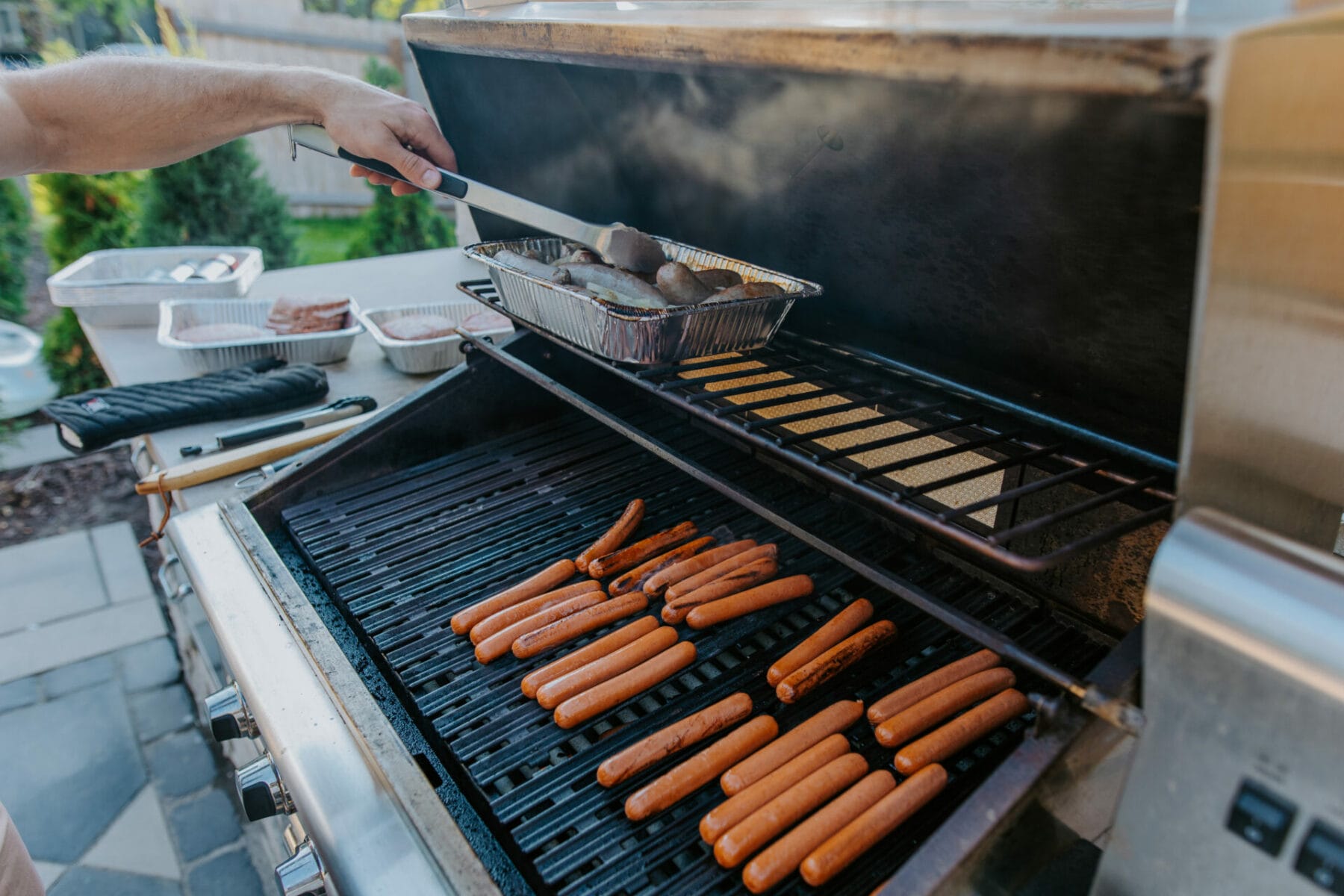 The outdoor kitchen is one of the most customizable features in your landscape design.
Unlike some landscaping features that have limitations, outdoor kitchens offer many possibilities. You can tailor your outdoor kitchen to your exact preferences and modify it to your space. Here are a few customizable aspects to consider:
Material Selection: Outdoor kitchens can be constructed from a variety of materials, including veneer stone on a wooden frame, cinderblock retaining walls, and fascia block walls. Your choice of material can greatly impact the aesthetics and functionality of your kitchen.

Size and Shape: Depending on the space available, you can decide on the size and shape of your outdoor kitchen. This flexibility allows you to create a kitchen that perfectly fits your backyard.

Accessories and Appliances: From grills to refrigerators, there's a wide array of appliances and accessories to choose from. You can even integrate unique features like a kegerator, flat-top griddle, or a pizza oven.
Outdoor Kitchen Elements To Consider
While the options for customization are virtually limitless, here are the elements we typically see our customers choose for their outdoor kitchens:
Grill: A must-have for any outdoor cooking enthusiast, a high-quality grill is the centerpiece of your outdoor kitchen.

Counter space: Adequate counter space is essential for food preparation, serving, and entertainment.

Fridge: An outdoor refrigerator eliminates the need for trips back and forth to the indoor kitchen.

Bar top or Countertop seating: Whether it's a bar top or counter with seating, having an area for guests to sit and chat while you cook is a great addition.
Once you cover the basics, you can have even more fun with your outdoor kitchen! Here are additional ideas you may not have thought of:
Smoker: If you already own a smoker, it can be seamlessly integrated into your outdoor kitchen, adding a new dimension to your culinary adventures.

Kegerator: For beer enthusiasts, a kegerator allows you to serve fresh, draft beer right from your backyard.

Flat-Top Griddle: A flat-top griddle is a fun and sleek alternative that allows you to expand your culinary adventures beyond grilling.

Pizza Oven: A custom ceramic masonry pizza oven or a smaller one adds a touch of authenticity to your outdoor kitchen. We've had customers implement huge, custom-masonry pizza ovens or smaller, more budget-friendly options.

Fire Table: Consider a fire table as part of your island to create a cozy, warm ambiance.

Swim-Up Bar: While it can be complicated, a swim-up bar is a unique and luxurious option for those with ample space and budget.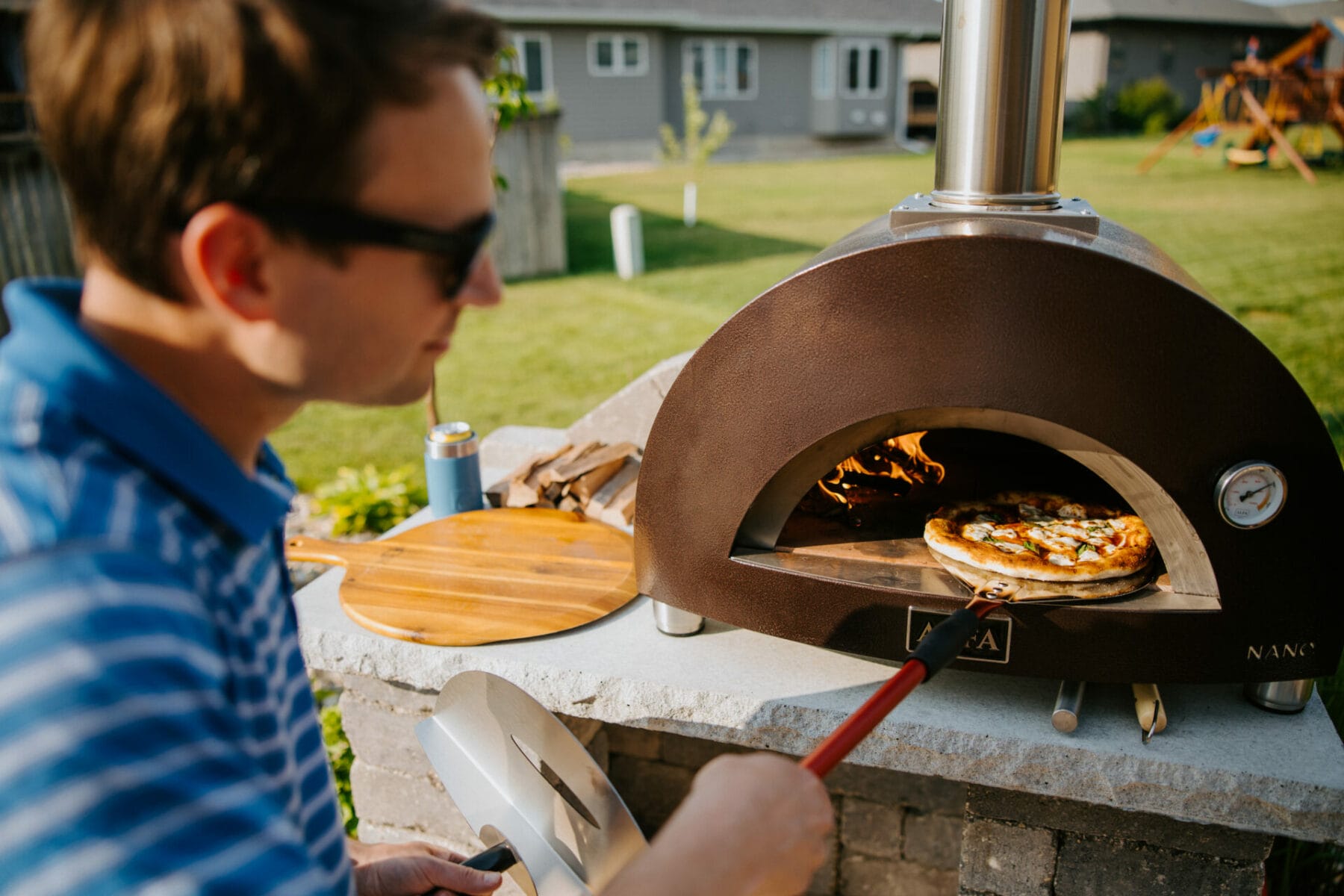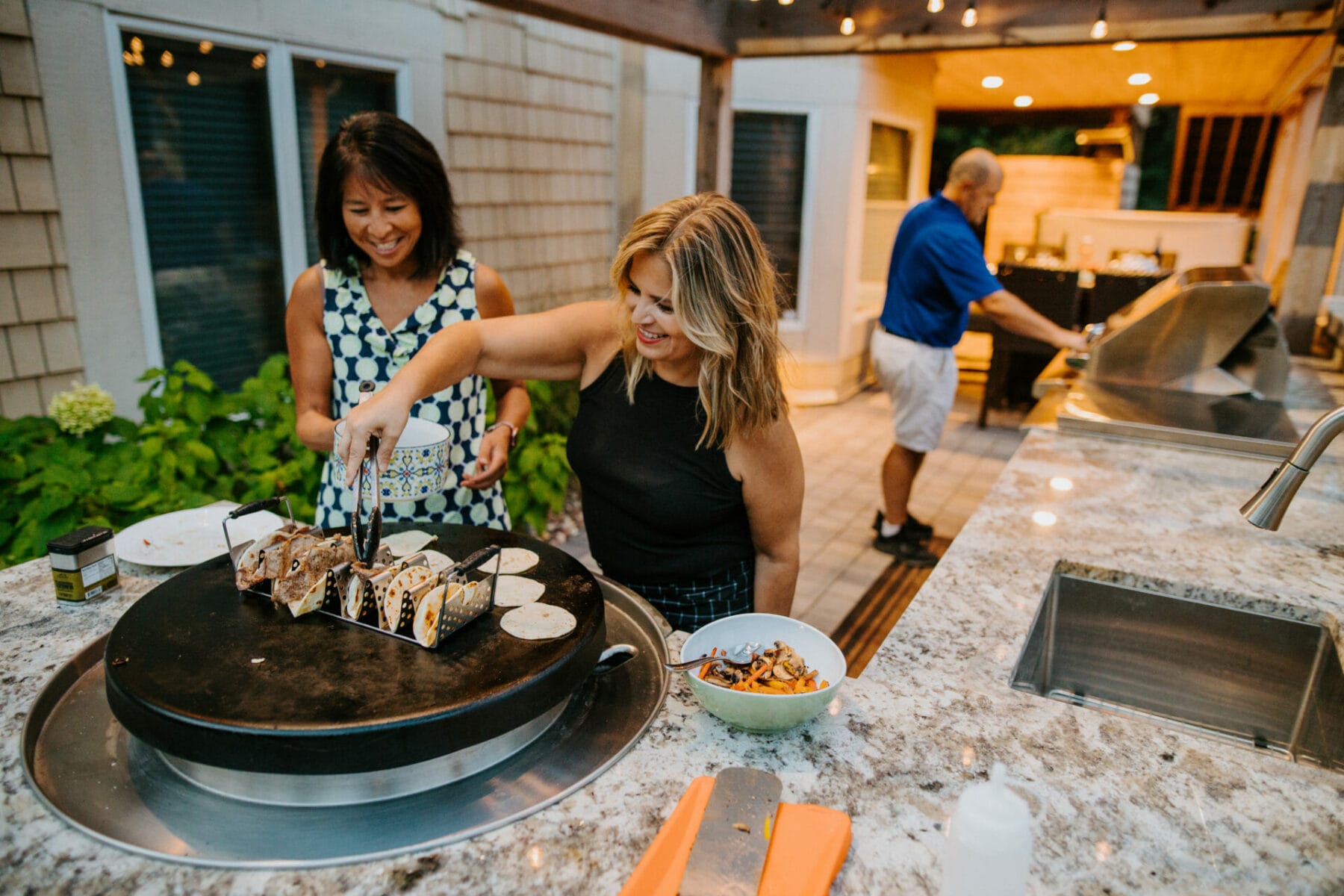 Designing an Outdoor Kitchen On A Budget
Creating an outdoor kitchen can be a significant investment, but it's possible to design one that fits within your budget. Here are some tips for stretching your dollar.
For example, instead of building an all-custom outdoor kitchen, our designers can order an outdoor kitchen kit from our suppliers. These pre-designed kits have modular components and they can be a more budget-friendly option.
An important note regarding kits is that the cost savings come from the time saved on the design and planning of an entirely custom kitchen. The elements and appliances are still the same high-quality materials that you can always expect when working with Weller Brothers.
Our landscape designers will always work with you to identify the best options that align with your budget and your vision. That said, let's discuss what the outdoor kitchen design process looks like!
Other Elements to Consider For Your Outdoor Kitchen
Lastly, you may not have thought about these small but important considerations for your outdoor kitchen. Here are some additional questions are designers will bring up:
Gas or Propane: Decide whether you want a gas line or propane for your grill and other appliances.

Sink Location: Determine if you want a sink connected to your irrigation system or back into your house.

Outlets: Consider how many outlets you want on your backsplash for crock pots or counter lights.

Customization: Think about personal touches like custom beer taps for your favorite sports team or other unique customizations.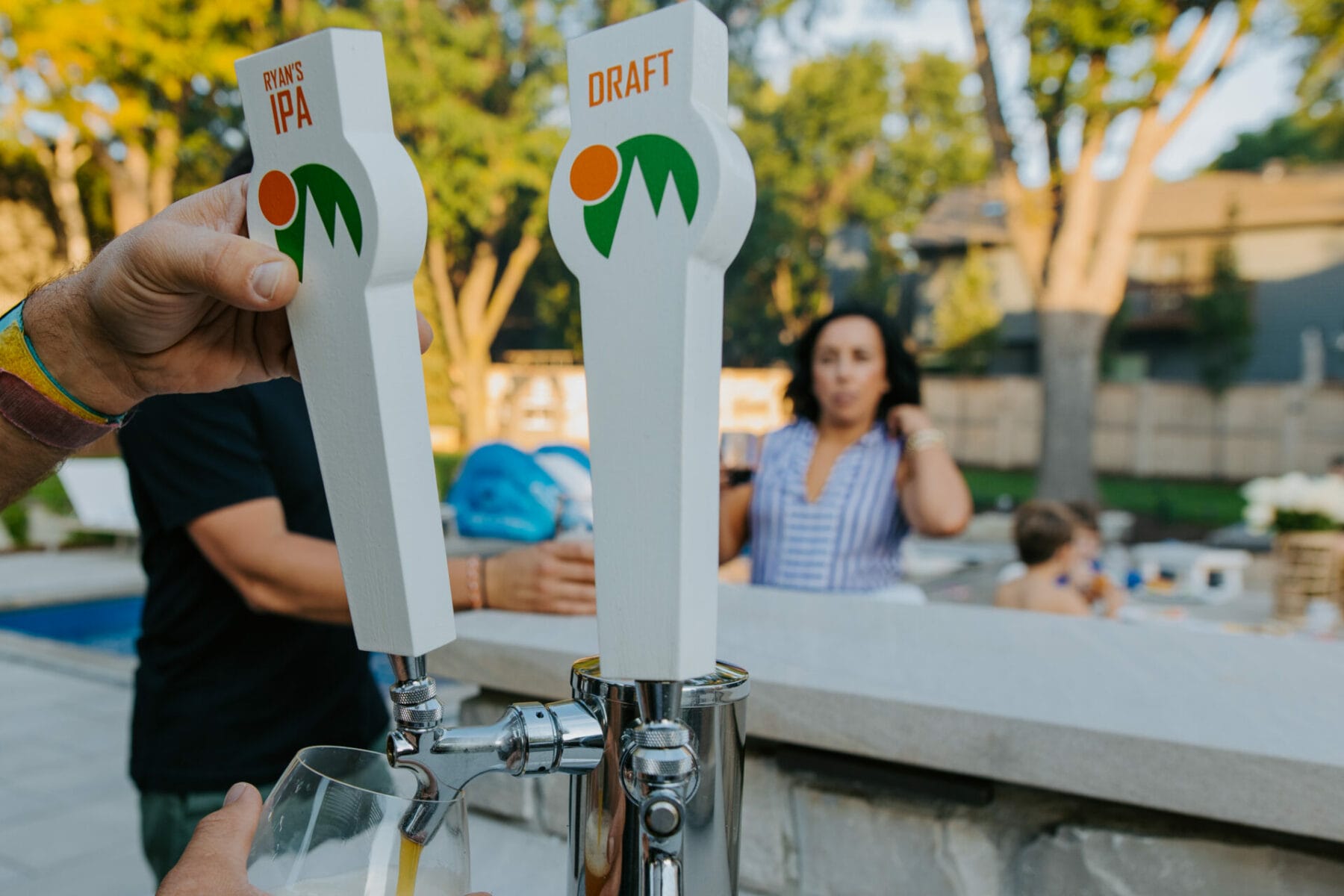 The Outdoor Kitchen Design Process
Choosing the elements for your outdoor kitchen involves collaboration with your landscape designer. Our team knows all of the ins and outs of creating and outdoor kitchen!
Here's how the process typically works:
Initial Consultation: Your designer will listen to your needs, preferences, and budget. They'll draw up a design based on this information.

Product Selection: The designer will make product decisions based on your budget range. They may present you with options for different elements, ensuring you're happy with the design.

Customization: If you have specific appliances or fixtures in mind, the designer can work around those, ensuring your outdoor kitchen perfectly suits your desires.
You can gain a more in-depth understanding of our landscape design process in Sioux Falls, Rochester, and Des Moines right here.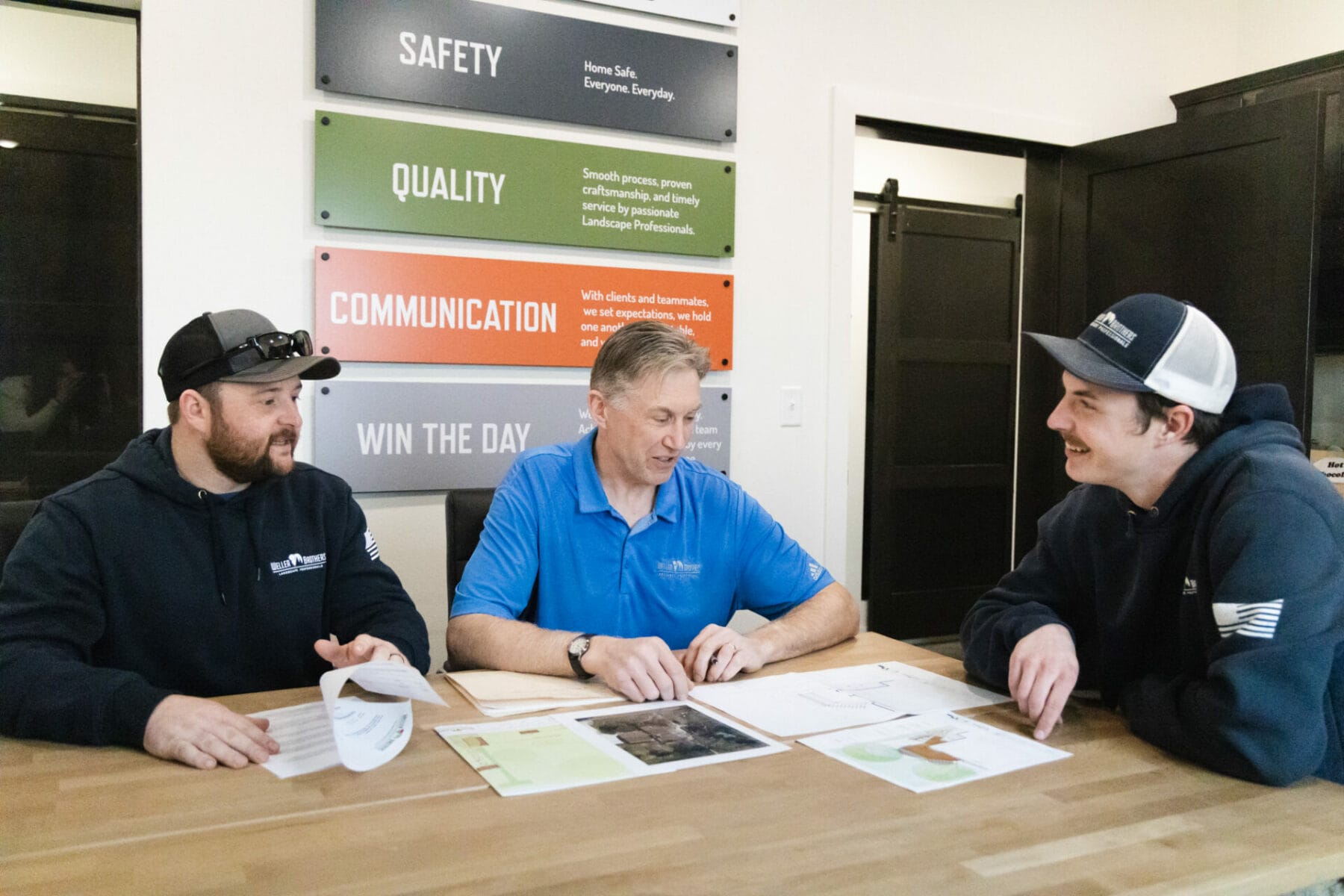 Do you feel inspired? We hope so!
Your next step toward having an outdoor kitchen is to schedule a consultation with one of our designers in Rochester, Des Moines, or Sioux Falls.
We'll check out your space and discuss your budget and what elements you'd love to include in your updated space. We can't wait to brainstorm with you!