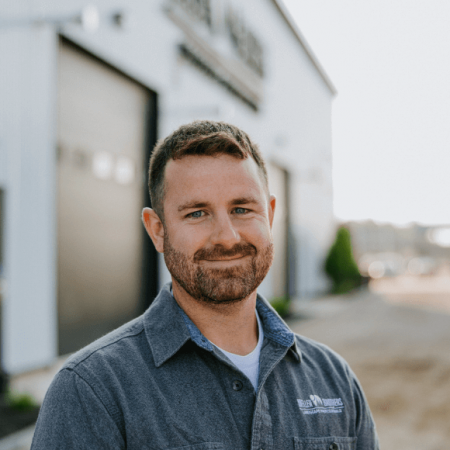 Welcome to this transformed backyard in Rochester, Minnesota.
Sit back in a lounger and enjoy perfectly crisp lines, a soft ambiance provided by landscape lighting, and a fresh taco from the Evo flat-top stove.

For many years, this expansive Rochester, Minnesota backyard sported a large, outdated deck and unimpressive landscaping. The homeowners were ready for change, which included a pool and much more.

Given the slope of the yard and the area dedicated to the pool, we had a relatively small area to work within. Yet, our team cleverly fit all of the elements into this project that the homeowners were hoping for — a sunken hot tub, outdoor kitchen and pergola, fire pit, and lounging areas. The artificial turf adds a unique element to the poolside, surrounded by Techo Bloc pavers.

The entire pool area is held up by a Kansas limestone retaining wall, with a Belgard wall separating the lower level from the top tier.

The kitchen elements were a priority to the homeowners, who knew exactly what they wanted. Our task was to create a kitchen design that checked off all their boxes, including a fully-functional sink, grill, and Evo flat-top stove. The granite countertops with drop apron edges add a clean and neat look to the kitchen.

Enjoy!