Three Types of Patios to Consider For Your Home
A patio is a common addition to any Midwest backyard, providing a sturdy and attractive surface for outdoor entertaining and relaxation.
There are several types of patios to choose from, each with its own unique look and benefits. During your initial consultation with one of our landscape designers, you'll likely discuss the intended use and desired look to determine which patio type is best for you:
paver
tile
concrete
natural stone
Let's explore these patio options to help you decide which one is right for your outdoor space.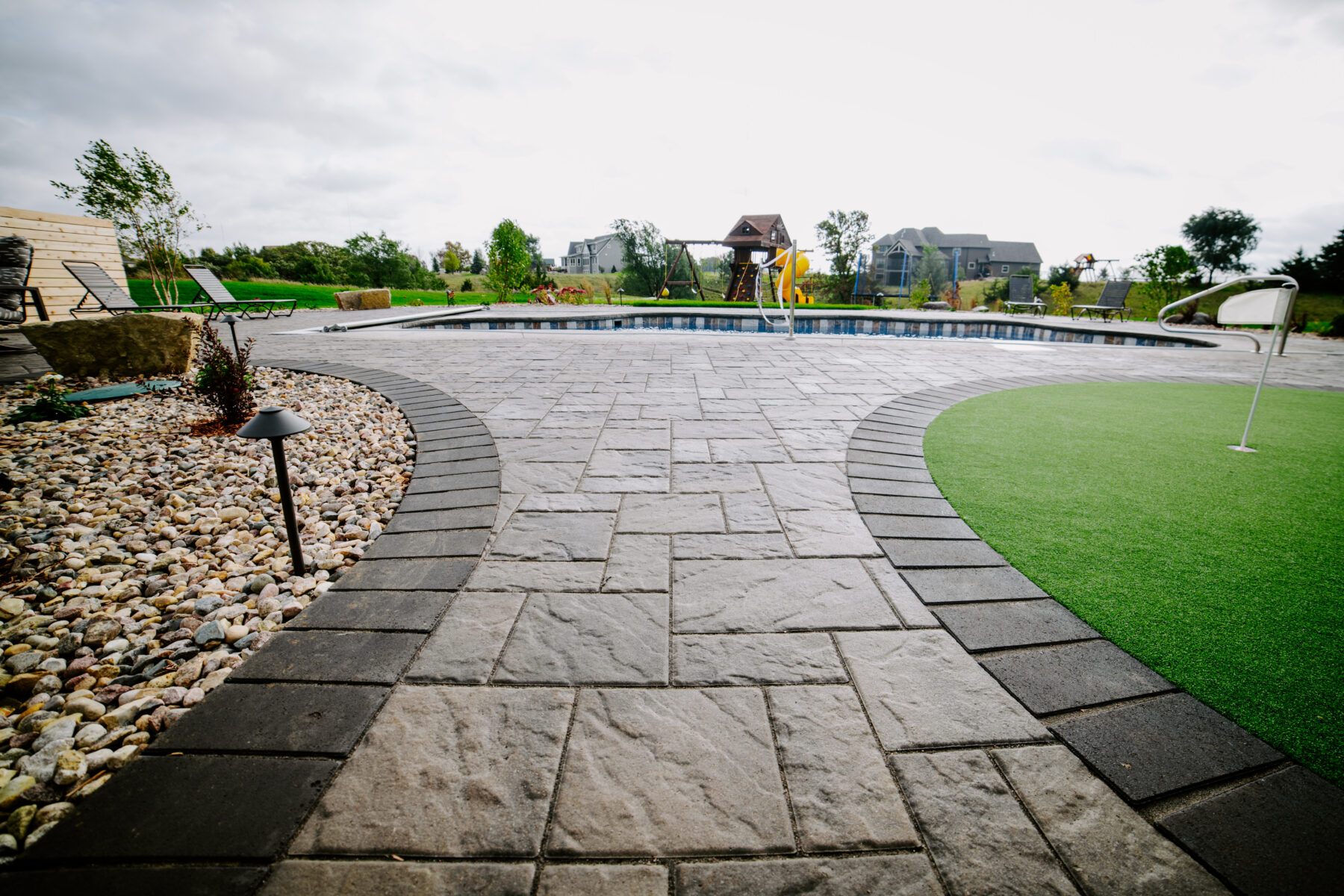 Homeowners in Sioux Falls, Rochester, and Des Moines often opt for paver patios because there are a variety of styles and sizes to choose from, allowing you to create nearly any look you'd like.
Pavers also offer longer patio longevity; if one cracks, you can simply have that one paver replaced.
Our landscape design team sources patio pavers from the following brands – Techo-Bloc, Belgard, or Unilock.
All three brands offer high-quality pavers but specialize in different styles. The selection comes down to the color, finish, and overall look you want for your space.
Sometimes, we even install pavers from more than one brand in the same design to add contrasting textures or colors.
The costs of your paver patio can vary greatly depending on the brand or style. Generally speaking, they can range from $25-$35/square foot.
Scroll through the images below to see examples of paver patios installed by Weller Brothers Landscaping.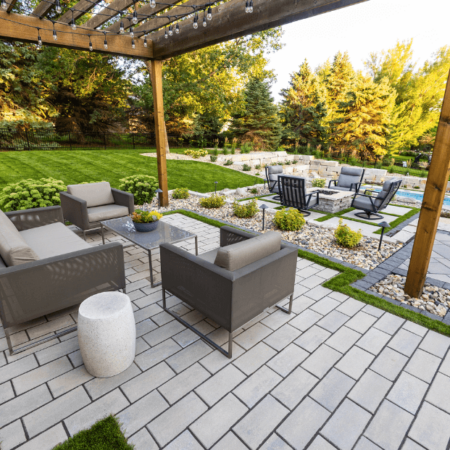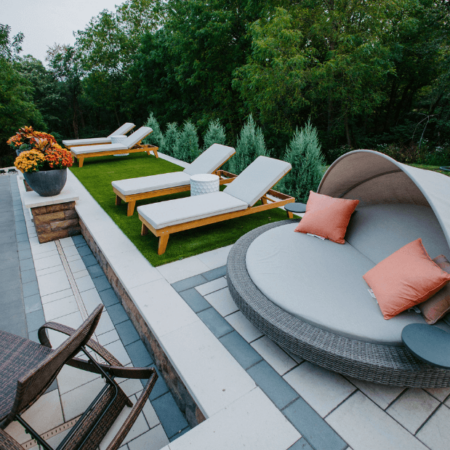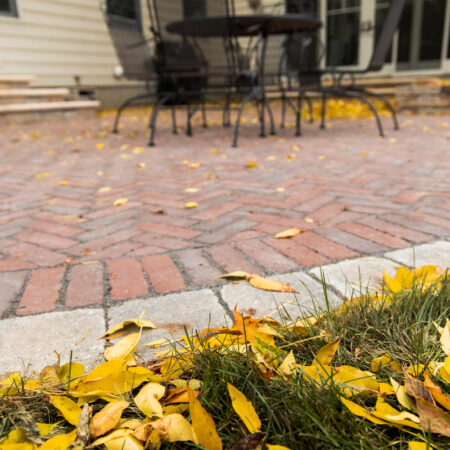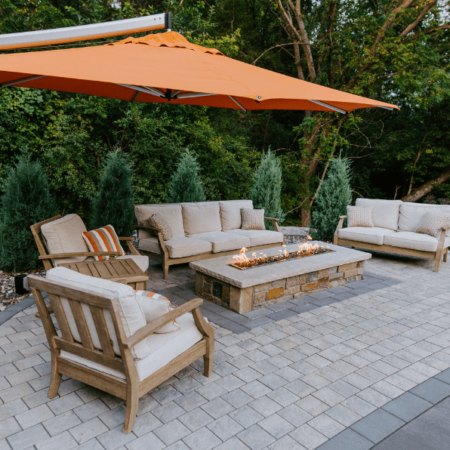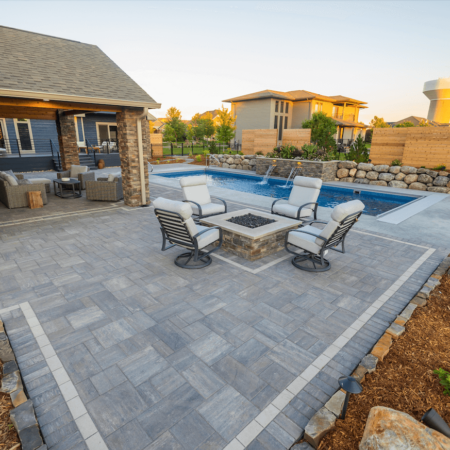 Tile patios are similar to pavers in that they offer a smooth, polished look and can be replaced individually if needed.
We can source tiles from a variety of places, but oftentimes, customers source these themselves and we provide the installation. We've even had some customers order porcelain tiles all the way from Italy!
That said, tiles can be a much higher financial investment, and they certainly add a wow factor to high-end landscape design.
Scroll through the images below to see examples of tile patios installed by Weller Brothers Landscaping.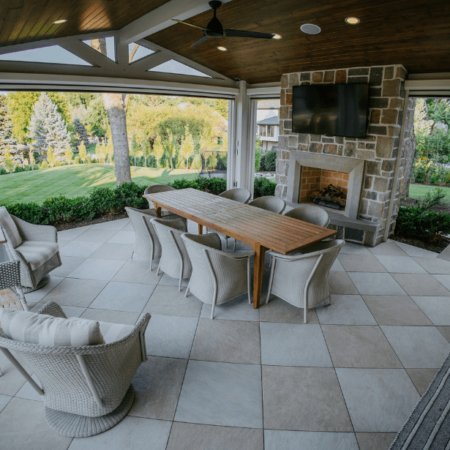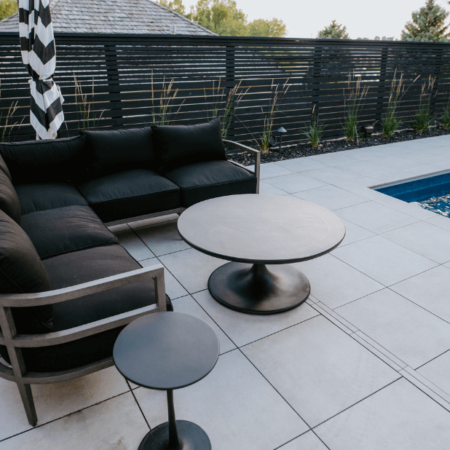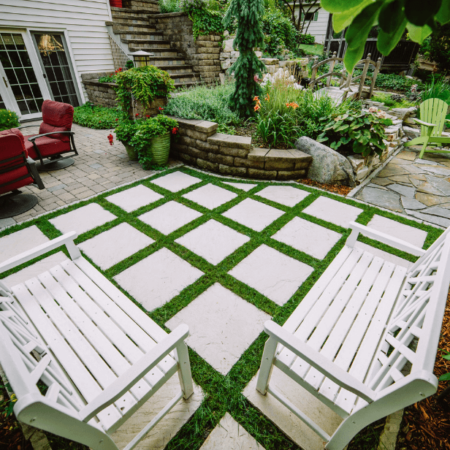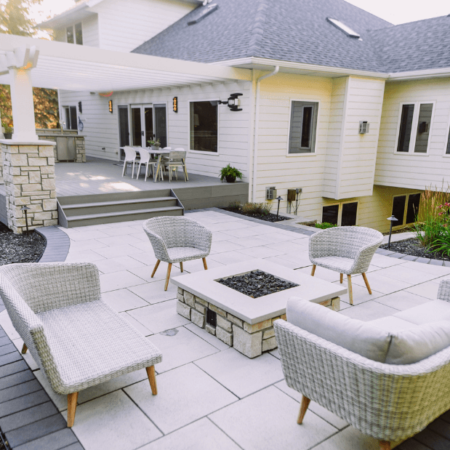 A concrete patio is the most cost-effective of your patio options, and can still look fantastic in your outdoor living space.
Some homeowners prefer a smooth concrete slab surrounding their pool area or for their seating area, while others add a texture element with stamped concrete.
Take note – while a concrete patio may save you some money upfront, it could be a hassle down the road if you're a perfectionist. One con of concrete patios is that if it cracks or settles in an area, you either have to live with it or replace the whole thing.
It's totally up to you and your preferences!
Typical Cost of Concrete Patios
Like all patio types, the cost varies but a ballpark range is $10/square foot for plain, brushed concrete and $20-$25/square foot for stamped concrete.
The images below are examples of concrete patios installed by Weller Brothers Landscaping.
Natural stone – or flagstone – patios are the third patio option for your Midwest home. This type of patio offers an organic, rugged look to your space.
Again, it's simply a matter of what your desired look is and how you plan to use the space.
For example, if you expect your patio or walkway to be a high-traffic area, natural stone may not be the best option due to the rough surface (which also makes it difficult to shovel).
That said, it can add lovely texture to an ancillary area in your space while complementing a larger, smooth paver area.
Typical Cost of Natural Stone
Natural Stone patios typically run at a similar cost to high-end pavers, or more.
For example, they can be anywhere from $25-$45 per square foot.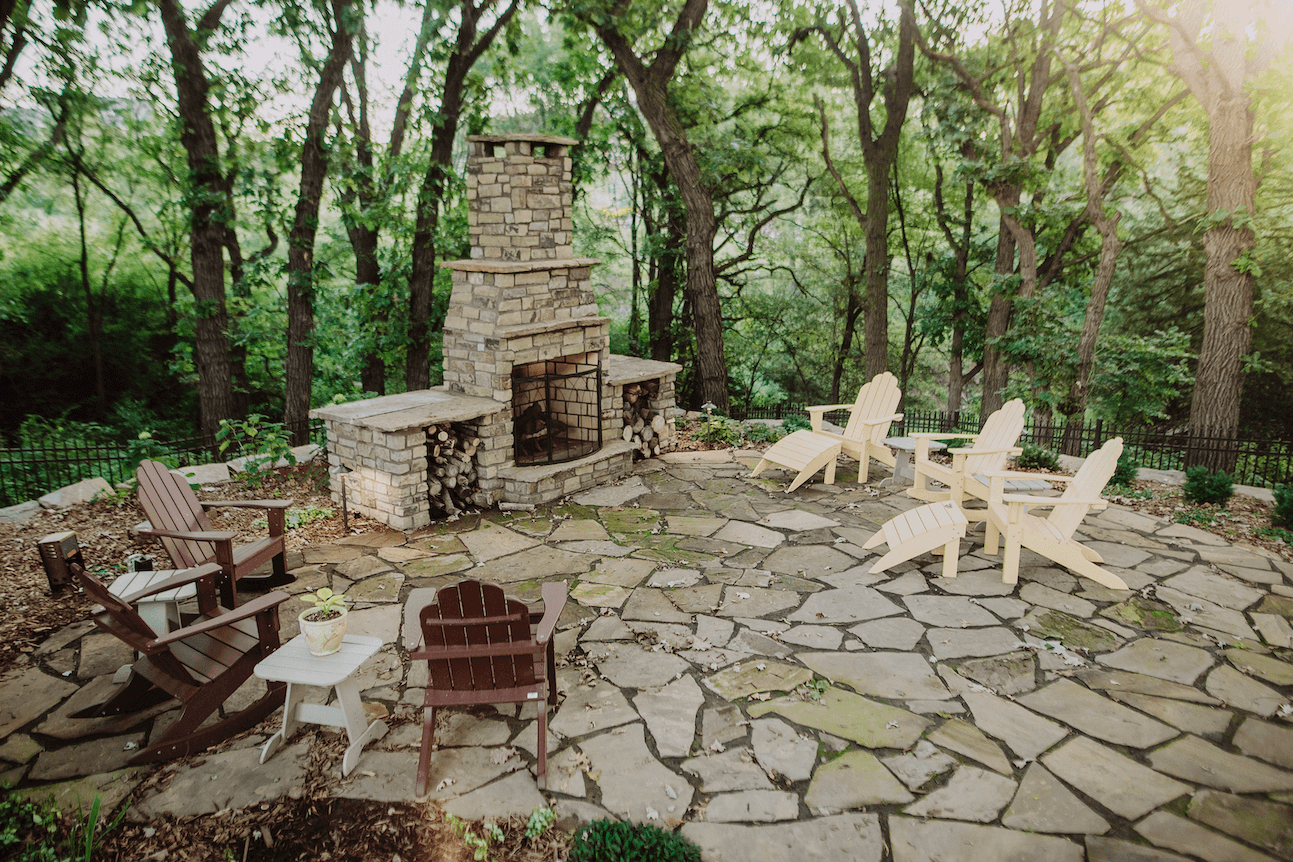 Questions to Ask Yourself
Now that you understand the different types of patios, you might feel overwhelmed. Let's make the decision easier with a few simple questions:
How will you use the space? – If it's a high-traffic area, flagstone, or natural stone, isn't the best choice. Will there be kids running around the pool? If so, stamped concrete can be slippery. 
Are you okay with having cracks that may develop over time? If "yes," and you're budget-conscious, then concrete may be a good option. If you don't want to live with cracks and settling in a few years, choose a paver patio so you can easily replace individual pavers as needed.
What look do you want? Do you want clean, crisp lines? Go with pavers or tiles. Do you like the organic, natural look? Then, consider natural stone.
What's your budget? The cost of a patio varies, but, generally speaking, here is how patio types rank from the least investment to the highest investment:

Concrete
Stamped concrete
Basic pavers
High-end pavers
Natural stone/flagstone
We have a handy budget guide to help guide your landscape design decision-making. Check it out here. 
Proper Installation Is Key
No matter which type of paver patio you choose, it is important to have it properly installed by a professional, like the team at Weller Brothers. A well-installed paver patio will last for many years, providing a beautiful and functional outdoor space for you and your family to enjoy.
Our team maintains certification from the Interlocking Concrete Pavement Institute, which means that we install patio pavers according to the highest industry standards. 
Visit our design gallery to see more examples of patios we have installed in South Dakota, Iowa, and Minnesota. 
To request a custom estimate for your backyard patio project, contact us here. Our talented team of landscape designers looks forward to bringing your project to life.